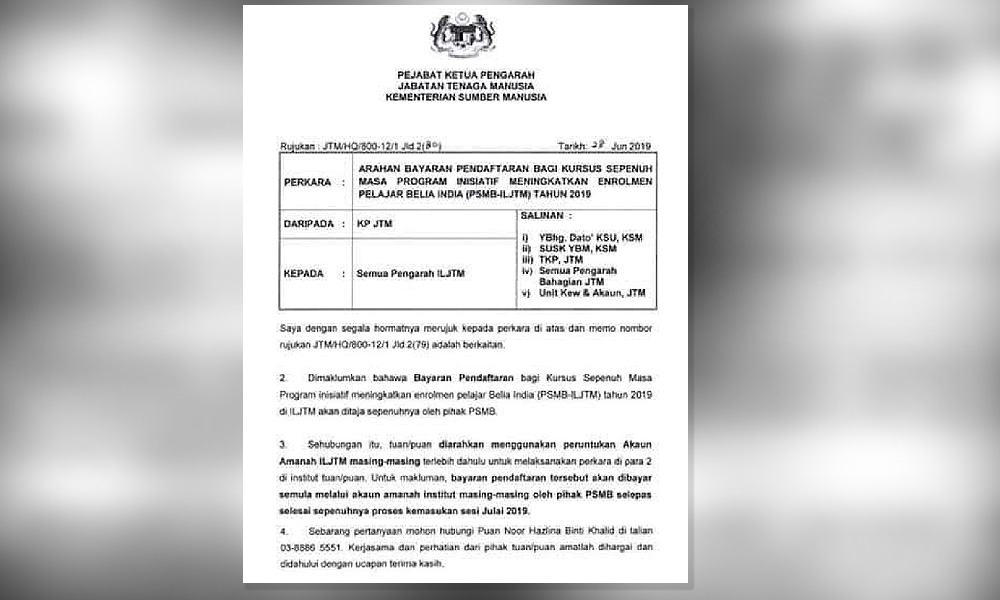 The technical and vocational education training (TVET) for Indian participants at a Johor training centre is being funded by a trust for Indian Malaysians that has been in existence since 2013, says the Human Resources Ministry.
The ministry was responding to criticism that alleged only Indian participants received fee exemptions.
In a statement today, the ministry said the exemptions are for diploma and certificate courses, and added that it is also working to expand the exemption to the B40 group and Orang Asli participants.
Earlier today, Parti Bumiputera Perkasa Malaysia (Putra) highlighted that some parents who sent their children to the Industrial Training Institution in Johor had vented their frustration over Indian students being purportedly exempted from paying fees.
In a statement, the party accused the Human Resources Ministry of abusing its power and misusing public funds for race-based purposes.
The Human Resources Ministry said, meanwhile, that RM5 million was allocated in Budget 2019 to encourage up to 2,000 Indian youths to choose TVET courses.
As of July 1, some 356 Indian youths had enrolled in short-term courses, and the ministry is expecting 218 more to enrol in diploma and certificate courses for the July 2019 session.
The ministry pointed out that this is not the first time an initiative for Indian youths has been implemented.
It said the Youth and Sports Ministry allocated RM11.6 million from 2013 to 2015 for a TVET initiative which involved 671 Indian students.

Source: www.malaysiakini.com
Comment: All communities should not be left out in the opportunity for education in Malaysia, especially the B40 group. There are certain extremist group in social media & NGO that's trying to create hatred among the Malays towards other races in Malaysia, as well as portraying that the current PH government is incapable by specifically targeting some Ministers.
DO NOT MIX education with race & politics!