Gagal Permohonan UPU – Apa Boleh Buat?
Anda (ataupun adik-beradik ataupun rakan-rakan yang) gagal dalam permohonan UPU (rayuan fasa 1 dan fasa 2) termasuklah permohonan rayuan? Ataupun anda masih tak tahu keputusan anda? Boleh buat semakan keputusan UPUONLINE dengan merujuk kepada url yang diberi dalam infografik di bawah ataupun terus di http://upu.moe.gov.my/
Anda jangan fikir dah tak dapat tawaran UPU, masa depan anda dah musnah tau. Banyak lagi alternatif lain sebenarnya selain dapat tawaran UPU.
Tingkatan 6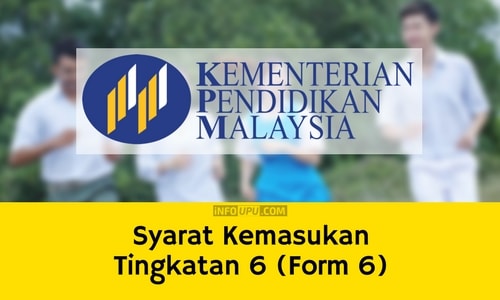 STPM menawarkan dua aliran iaitu kesusasteraan dan sains. Anda boleh pilih aliran mana yang anda minat. Tempoh pengajiannya pun tak lama, hanya satu tahun setengah sahaja dan kemudian anda dah berpeluang untuk melanjutkan pelajaran ke menara gading. Yuran pengajian pun murah tau.
Kaedah pengajiannya juga terbahagi kepada dua dan bukan hanya fokus kepada intensif peperiksaan sahaja. STPM juga ada penilaian yang berorientasikan tugasan.

Ramai orang kata yang kalau ambil STPM ni, sebelah kaki anda dah ada kat Universiti. Takkan anda tak nak kan?
Institut Pengajian Tinggi Swasta (IPTS)
Melanjutkan pelajaran ke peringkat tinggi samada di universiti awam (UA), institut latihan kemahiran awam (ILKA) atau IPTS adalah pilihan buat pelajar lepasan SPM/STPM. Menyambung dan memilih tempat untuk melanjutkan pengajian tinggi bukanlah satu perkara yang mudah buat pelajar masa kini.

Negara kita berlambak dengan IPTS yang tawarkan pelbagai jurusan dan bidang. Selain tu, ada yang kata yuran kat IPTS tu mahal gila. Betul kah? Secara realitinya, yuran untuk melanjutkan pegajian ke IPTS memang agak mahal berbanding dengan pilihan-pilihan lain yang ada. Namun, tidak salah rasanya jika kita melabur untuk mendapatkan sesuatu ilmu yang sangat kita dahagakan kan? Lagipun, mana tahu ilmu serta sijil yang anda dapat daripada IPTS ini lah yang membuatkan kehidupan kamu lebih berjaya pada masa akan datang. Siapa tahu kan?

Namun, banyak kelebihan juga belajar di IPTS.
Anda boleh belajar dengan lebih fokus dan teratur sebab pelajar IPTS pada kebiasaannya tidak ramai berbanding IPTA/UA. Jadi anda tak perlulah risau tentang mendapat gangguan orang lain semasa sesi pembelajaran dijalankan.
IPTS juga biasanya lebih berasaskan industri, banyak menerapkan ilmu praktikal yang dapat memberi tahap kefahaman yang lebih tinggi kepada anda berbanding dengan teknik menghafal, membaca dan sebagainya. Tujuan IPTS lebih menumpukan praktikal adalah untuk melahirkan anda menjadi graduan yang lebih proaktif dan memenuhi permintaan pasaran pekerjaan pada masa kini.
Antara IPTS yang terkenal adalah Limkokwing University, Universiti Multimedia (MMU), Universiti Tun Abdul Razak (UniRazak), Univesiti Teknologi Petronas, Management & Science University (MSU) dan banyak lagi.
Kat sini min nak berikan sedikit tips untuk anda membuat semakan terhadap kursus yang anda minat. Sebelum anda nak memasuki IPTS, anda kenalah tengok dulu semak dulu samada program tu telah diakreditasi oleh MQA ke belum. Anda boleh tengok rujuk di sini untuk buat carian.
Namun, sekiranya anda tak pernah terfikir nak kerja di sektor awam atau syarikat Government Linked Company (GLC), boleh juga pertimbangkan persijilan tanpa MQA.

* Jika anda lepasan SPM dan ada Sijil Kemahiran Malaysia (SKM), min nak syorkan program diploma profesional atau ijazah eksekutif yang diwujudkan khas untuk lepasan Sijil Kemahiran Malaysia (SKM)/Diploma Kemahiran Malaysia (DKM) dan Siijl Vokasional Malaysia (SVM). Banyak juga kelebihannya berbanding dengan diploma/ijazah sarjana muda biasa. Nak tahu lebih lanjut?
Sila isi borang tunjuk minat di sini (kalau ada SVM / SKM / DKM atau sebarang sijil teknikal)
Sijil Kemahiran Malaysia (SKM) / TVET (Technical and Vocational Education and Training)
Selain institut latihan kemahiran awam yang boleh dimohon melalui UPU, anda juga boleh mengambil sijil kemahiran di institusi latihan kemahiran swasta. Terdapat pelbagai jenis kursus kemahiran yang ditawarkan seperti kursus kulinari/penyediaan makanan, kursus pastri, kursus elektrik, kursus komputer, kursus penyediaan awal kanak-kanak dan banyak lagi.
Lepasan Sijil Kemahiran Malaysia (SKM) ini mendapat sambutan tinggi dari industri, dalam dan luar negara.
Tapi ramai orang kata yang kursus kemahiran adalah untuk mereka yang gagal pendidikan akademik. Masih ramai yang ada pandangan negatif terhadap aliran kemahiran ini. Kalau ambil sijil kemahiran ni mesti tiada masa depan dan susah untuk bersaing dalam industri. Betulkah?

Anda mungkin pernah dengar tentang kisah viral mengenai seorang perempuan pertama Malaysia yang bekerja sebagai seorang jurukimpal kan? Kalau anda nak tahu, Nurizzati Athirah Mohamad Yusoff ataupun lebih dikenali sebagai Athirah yang berusia 22 tahun telahpun mula menceburi bidang kimpalan bawah air ketika dia seorang pelajar di Kolej Vokasional Taiping di Kamunting, Taiping, Perak.

Ni kisah beliau: Jurukimpal Wanita Dalam Air Bertaraf Antarabangsa Memecah Dominasi
Kalau Athirah boleh buktikan pada satu Malaysia tentang kerjaya kemahiran yang dia ceburi bukanlah satu pekerjaan yang sia-sia mengapa anda tak boleh pulak kan?
Anda kena teruskan usaha dan jangan terlalu mudah mengalah, hidup memang selalu mencabar!
Dalam hidup ni tidak ada satu benda pun yang mudah sebenarnya. Apabila anda gagal hari ini (permohonan UPU), ia tidak bermaksud anda akan gagal seumur hidup tau. Anda kena bijak merancang perjalanan hidup sendiri di samping berusaha dengan gigih agar kejayaan yang anda impikan tu dapat dikecapi pada suatu hari nanti. Dan yang paling penting adalah anda kena percaya dengan kebolehan yang ada pada diri sendiri.