Kursus Kemahiran/TVET
Sebelum bincang kursus kemahiran/TVET, baik anda tahu apa definisi kemahiran dan TVET.
Mengikut Kamus Bahasa Melayu Dewan Bahasa dan Pustaka, kemahiran bermakna kecekapan dan kepandaian melakukan sesuatu.
TVET (technical and vocational education and training) merupakan singkatan bagi Pendidikan dan Latihan Teknikal dan Vokasional. TVET adalah proses pendidikan dan latihan yang mempunyai hala tuju pekerjaan dengan penekanan utama terhadap amalan industri.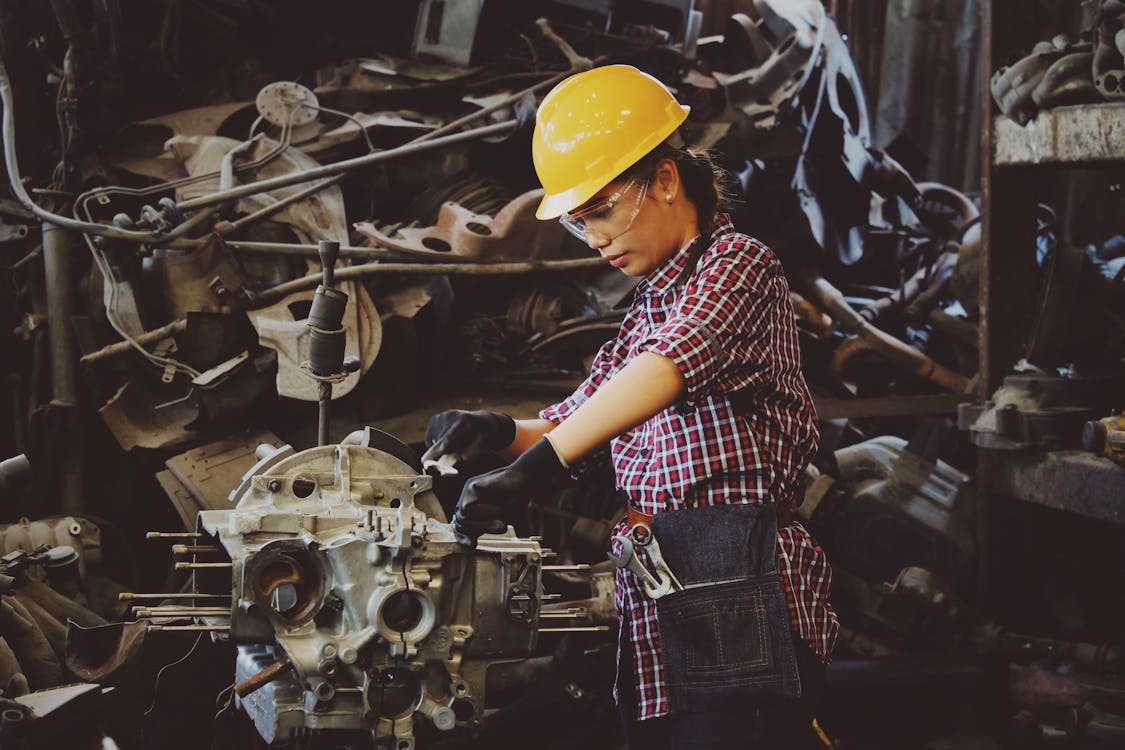 Dalam konteks artikel ini, kursus kemahiran/TVET dipersijilkan dengan Sijil Kemahiran Malaysia (SKM) ataupun sijil teknikal yang dianugerahkan oleh institusi latihan tersebut.
5 faktor utama mengapa pelajar belajar kursus kemahiran di pusat latihan kemahiran swasta berbanding awam
1. Pelajar rata-ratanya tidak tahu kewujudan PB Awam tersebut (Berita baik, anda boleh rujuk di laman ni – SILA HUBUNGI Institutsi Kerajaan tersebut sendiri untuk tanya program yang anda minat nak ambil, JANGAN tanya min ya kerana min telah beri senarai tu di bawah. Sila Google/hubungi institusi awam tersebut untuk dapatkan lebih maklumat)
2. PB Awam yang diingini/dipilih tidak menawarkan program yang diminati oleh pelajar
3. PB memilih pelajar tertentu sahaja walaupun pemohon memenuhi kriteria yang telah ditetapkan (ni min sendiri pun tak faham kenapa??)
Mungkin ke pasal syarat lulus SPM BM/Sejarah?
4. Pelajar tak tahu beza PB awam dan swasta??
5. PB swasta di lokasi yang strategik serta mengeluarkan graduan yang lebih berdaya saing
* Untuk 2,3 & 4, jika anda ada bajet/mampu untuk bayar yuran kursus ataupun sanggup ambil pinjaman PTPK (kalau ada kuota), sila isi Borang Permohonan Kursus Kemahiran – Berbayar atau emel kepada admin butiran anda seperti berikut:
a. Nama
b. Emel & Tel
c. Bajet
d. Nama program yg diminati (maksimum 3)
e. Lokasi kursus yang diingini
f. Kelayakan akademik/kemahiran
g. Perlu Pinjaman PTPK tak
Berminat untuk menyambung pengajian dalam bidang kemahiran di ILKA melalui permohonan UPU 2020 online? Berikut dikongsikan Senarai ILKA iaitu nama Institusi Latihan Kemahiran Awam Di Malaysia buat panduan pelajar. Empat (4) institusi kemahiran yang digolongkan dalam ILKA adaah Institusi Latihan Kemahiran Belia dan Sukan (ILKBS), Institusi Latihan Jabatan Tenaga Manusia (ILJTM), Bahagian Latihan Kemahiran Pertanian (BLKP) dan Majlis Amanah Rakyat (MARA).
Permohonan kemasukan ke ILKA dibuat dalam 2 kali setahun iaitu sesi Januari dan Jun/ Julai. Kursus pengajian yang ditawarkan adalah untuk Program bertaraf Sijil dan Diploma yang berbentuk kemahiran mengikut bidang tertentu.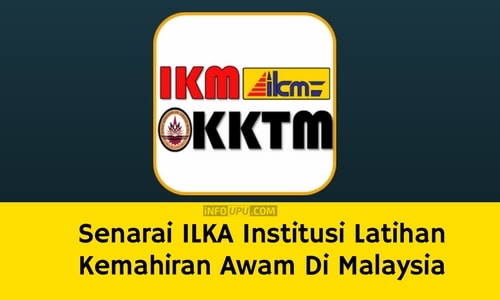 Kursus Kemahiran di Institusi Latihan Kemahiran Awam (ILKA)
Berikut dikongsikan senarai ILKA yang terdapat di Malaysia. Klik link yang diberi untuk mendapatkan maklumat lanjut seperti nama dan alamat institusi, kursus yang ditawarkan serta panduan memohon.
Senarai ILKA Di Malaysia
Berikut adalah senarai Institusi Latihan Kemahiran Awam (ILKA) yang terdapat di Malaysia untuk mereka yang berhajat menyambung pengajian kemahiran peringkat Sijil dan Diploma.
i) Institusi Latihan Kemahiran Belia dan Sukan (ILKBS)
Bahagian Pembangunan Kemahiran Belia (BPKB) melalui Institusi Latihan Kemahiran Belia dan Sukan (ILKBS) menawarkan latihan amali serta praktikal bagi menyediakan golongan belia dengan kemahiran-kemahiran yang diperlukan untuk terus menyertai kerjaya terpilih setelah tamat pengajian.
ILKBS dibahagiakan kepada IKBN, IKTBN dan AKBG
Kursus kemahiran sepenuh masa di Institut Kemahiran Belia Negara (IKTBN/IKBN)
Kursus Bina Insan (kepimpinan, keusahawanan, disiplin) kepada belia
Kemahiran Jangka Pendek khas yang disesuaikan kepada belia
Kursus Kemahiran di institusi swasta (program tajaan pelatih)
Senarai ILKBS
Akademi Kemahiran Belia Golf (AKBG)
ii) Institusi Latihan Jabatan Tenaga Manusia (ILJTM) : Senarai ILKA
JTM diwujudkan untuk melahirkan tenaga mahir negara dari peringkat sijil latihan hinggalah Diploma Lanjutan dalam pelbagai bidang kursus kemahiran. Oleh kerana dengan perubahan teknologi yang begitu pesat dan keperluan tenaga kerja mahir yang mendesak, maka JTM telah menubuhkan beberapa institusi latihan diseluruh negara.
Senarai ILJTM
iii) Bahagian Latihan Kemahiran Pertanian (BLKP)
iv) Majlis Amanah Rakyat (MARA)
Objektif institusi kemahiran di bawah MARA adalah :-
Membangun dan melaksanakan Program Pendidikan Teknikal dan Vokasional yang berkualiti serta diiktiraf ke arah menyediakan kerjaya berpendapatan tinggi
Menambah bilangan penglibatan bumiputera dalam pelbagai bidang teknikal di industri
Menyediakan kemudahan latihan dan infrastruktur yang selari dengan perkembangan teknologi dan keperluan semasa
Meningkatkan kompetensi pengajar bagi memenuhi keperluan i-pengajar
Melahirkan potential technopreneur yang berdaya saing dan berdaya tahan
Menyediakan peluang pembelajaran sepanjang hayat
Senarai IPMa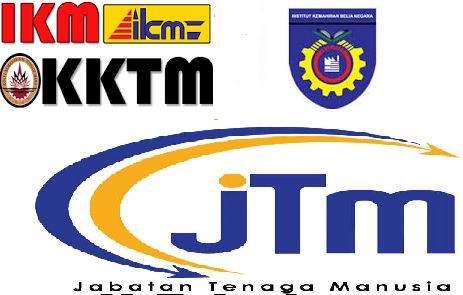 Cara Membuat Permohonan Kemasukan Ke ILKA
Permohonan kemasukan ke ILKA dibuat dalam 2 sesi iaitu sesi Jun/ Julai melalui permohonan UPU online dan sesi Januari melalui Laman web ILKA yang berkenaan.
Semoga perkongsian Senarai ILKA Institusi Latihan Kemahiran Awam Di Malaysia (dan juga TVET) boleh dijadikan panduan buat pelajar yang ingin menyambung pengajian di sini. Selamat membuat permohonan kemasukan melalui UPU online dan secara terus ke ILKA yang berkaitan mengikut tarik yang diumumkan.
Sumber: https://www.infoupu.com/senarai-ilka-institusi-latihan-kemahiran